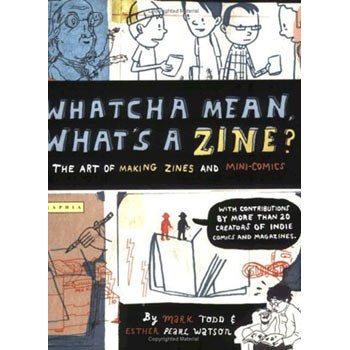  
WHATCHA MEAN, WHAT'S A ZINE ?
Esther Watson - Mark Todd
[Fanzine Culture - Do It Yourself]
A zine is a handmade magazine or mini-comic about anything you can imagine: favorite bands, personal stories, subcultures, or collections. They can be by one person or many, found in stores, traded at comic conventions, exchanged with friends, or given away for free. Zines are not a new idea: they've been around for years under various names (chapbooks, flyers, pamphlets), and people with independent ideas have been getting their word out since before printing presses. With contributions by more than 20 creators of indie comics and magazines - including John Porcellino, Ron Rege Jr., Martin Cendreda, Allison Cole, Eric Nakamura of Giant Robot, Anders Nilsen, Souther Salazar, Paper Rad, Bwana Spoons, Dan Zettwoch, Dave Kiersh, Raina Lee, and more - Whatcha Mean, What's a Zine? tells you all you need to know to design, print, and distribute your own zine. Lots of illustrations and comics (two-color).
Raphia Books (2006) 112 p. 18 x 23 cm - In English