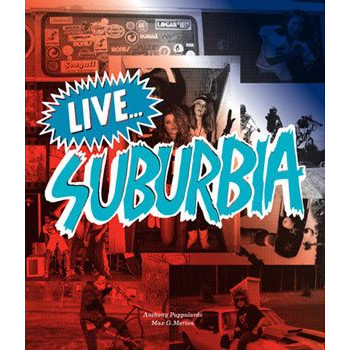  
LIVE...SUBURBIA !
Anthony Pappalardo - Max G. Morton
[Lifestyle - American Subcultures]
Des histoires en images des sous cultures post sixties américaines.
It's kids taking their urethane wheels to empty pools; picking British Punk in broad downstrokes and creating Hardcore. Live…Suburbia! is dedicated to denim devils twirling butterfly knives and hasty tags thrown down with Rust-Oleum touch-up paint stolen from your parent's garage.
Documenting American subculture through images and anecdotes, from the juvenile KISS Army in oil-based face paint to the year punk broke, Live… Suburbia! celebrates the evolution of the teenage explorer. Rushing through years packed with ninjas, spike gauntlets, BMX dirt jumps, seven-ply skateboards, bathroom mohawks, skinheads, the straight edge, basement DJs, graffiti murals behind supermarkets, we finally arrive in the 1990s where it all collides. Many have contributed to the highlight reel of restless youth and disposable landscapes, with Foreword by The Hold Steady's Craig Finn and photographs from JJ Gonson, Gail Rush, Rusty Moore, Michael Galinsky, Theresa Kelliher, Ryan Murphy, Justine Demetrick, Casey Chaos, Eva Talmadge and London May and dozens more discovered along the road.
PowerHouse (2011) 240 p. 21 x 24 cm - Softcover - En Anglais