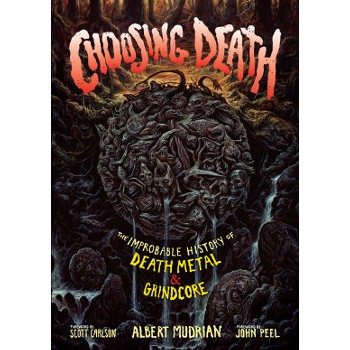  
CHOOSING DEATH
Albert Mudrian
[Death Metal - Grindcore]
In 1986, the idea that death metal and grindcore would ever impact popular culture was unimaginable. Yet soon this barbaric amalgam of hardcore punk and heavy metal came to perpetually define the musical threshold of extremity. Initially circulated through a scattered tape-trading network of underground thrillseekers, bands rose from every corner of the globe and death metal and grindcore spread faster than a pandemic plague of undead flesheaters. By 1994, the genre's most prominent labels had sold well over a million death metal and grindcore albums each.
Choosing Death: The Improbable History of Death Metal & Grindcore examines the rise, fall, and resurrection of death metal and grindcore through the eyes and ringing ears of the artists, producers and label owners who propeled the movements. "I thought of death metal and grindcore as a return to a more extreme punk," writes the BBC's John Peel in his foreword. "This music was another step into outlaw territory beyond any aggressive music heard before."
For this revised and expanded edition, the book now flaunts a whopping 100 additional pages in three new chapters; 50 additional interviews; a grisly 16-page colour insert; and a new cover painting by legendary death metal artist Dan Seagrave (known for his classic Entombed and Morbid Angel album covers). This head-rushing history also features forewords by famed BBC DJ John Peel and Repulsion co-founder Scott Carlson.
Bazillion Points (2016) 384 p. 17 x 24 cm - En Anglais