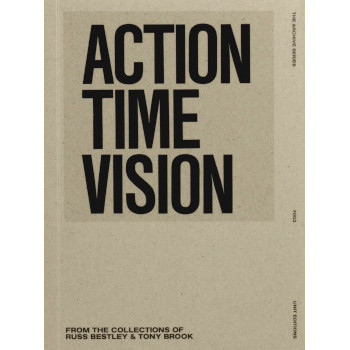  
ACTION TIME VISION
Russ Bestley - Tony Brook
[Punk - Cover Art]
Music from the punk era transformed the world of music. If you could play three chords, you could make records. You didn't even need a record label. You could start your own. The same thing happened in graphic design. All you needed were a few a sheets of Letraset and access to a photocopier, and you could make your own record covers. And lots of people did just that.

Action Time Vision: Punk & Post-Punk 7" Record Sleeves is a celebration of DIY graphics from the punk and post-punk eras. You might call it outsider graphic design. Few of the sleeves showcased here are beautiful in the normal sense of the word. But they all have an urgency and an exhilarating disregard for design conventions that makes them exceptional. They are all clarion calls for independence and freedom from pop industry norms.

The book also features interviews with designer Malcolm Garrett, Mute founder Daniel Miller and Sniffin' Glue editor and musician Mark Perry.
United Editions (2016) 320 p. 17 x 23 cm - En Anglais