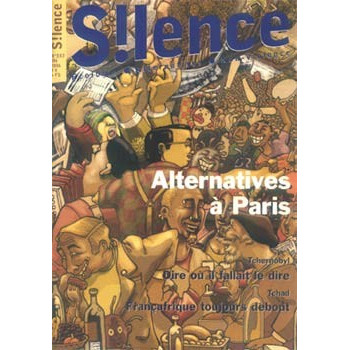  
SILENCE - PACK OF 3 MAGAZINES (N°337 + N°338 + N°340)
Silence
[Ecology - Degrowth - Alternatives]

Pack of 3 issues of french ecological and degrowth magazine Silence...Three for the price of one. Destock.
SILENCE N°337 JUILLET-AOUT 2006 - 70 p. 20 x 29 cm - In French
Dossier Alternatives à Paris: Paris à vélo, cinéma Le Bharbizon, café resto librairie La Passerelle, un maire vert au centre de Paris, l'Union Pacifiste de france, centre social Le Picoulet, le grand don, les boutiques pedagogiques, commerce equitable, radio libertaire, Francafrique toujours debout, la caravane la Diagonale de Tchernobyl, et des centaines de contacts, infos, initiatives...
SILENCE N°338 SEPTEMBRE 2006 - 56 p. 20 x 29 cm - In French
Thematique Technologie contre Autonomie: Les pièges du système technicien, Technofolie techno-utopie, Technologies par quel bout commencer, répondre aux lieux communs sur la croissance et le progrès...Nouvelles course aux armes nucleaires, migrations, atelier d'architecture autogéré ecobox, cooperative co-errances, plus des centaines d'infos, annonces, breves, chroniques...
SILENCE N°340 NOVEMBRE 2006 - 56 p.21 x 29 cm - In French
Thema Décroissance soutenable, Vers une société utopique soutenable, L'innovation frugale...Rencontres des ami(e)s de Silence, Le café du soleil (Jura suisse), Refractaires à la guerre d'Algérie, Rencontres de chorales révolutionnaires, Portrait Solange Fernex, Inspection cioyenne dans les Landes (anti nucleaire militaire), La maison des femmes de Paris, et dizaines de contacts, infos, chroniques etc...