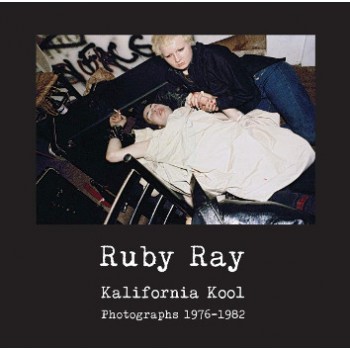  
RUBY RAY - KALIFORNIA KOOL (PHOTOGRAPHS 1976-1982)
Ruby Ray
[Punk - San Francisco - 70-80]
Spanning music, art and literature, the industrial and punk scenes of San Francisco in the late 1970s and early 1980s were diverse but united by a DIY, anti-authoritarian attitude. Photographer Ruby Ray was there to capture it all in the same spirit. With her work appearing in the legendary punk zine Search & Destroy and its successor RE/Search, Ray was at the epicenter of, and a key participant in, a vital cultural moment vibrant with provocation and creativity. A local experimental music and art scene supported artists like Bruce Conner, William S. Burroughs and Louise Nevelson and attracted groundbreaking bands like Devo, the Mutants, Boyd Rice and the Dead Kennedys, as well as established international bands like Throbbing Gristle, the Clash and the Sex Pistols (in fact, Ray was there to shoot their famous final concert at the Winterland Ballroom).

Ruby Ray: Kalifornia Kool collects the photographer's images from this time: live shots, backstage parties, apartments overflowing with youthful exuberance, elegant portraits of key people and photographic experiments. Her work captures a time and a place where West Coast open-mindedness, youth, art, music and electricity merged. As Carl Abrahamsson puts it in his introduction to this volume, "Ruby's images open up a portal to a mythic and frenzied scene and show that it's true: all mythologies are real."

Ruby Ray (born 1952) is an American photographer, well known for her photography of the early punk, post-punk and industrial movements in California in the late 1970s and early 1980s. She began her photography career in 1977, when her photographs began appearing in Search & Destroy.
Trapart (2019) 200 p. 25 x 25 cm - Hardcover