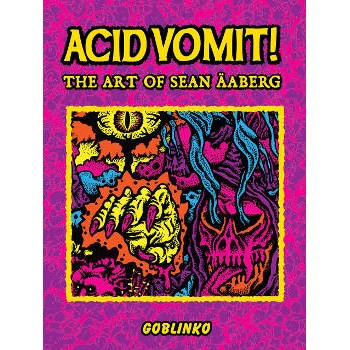  
ACID VOMIT ! THE ART OF SEAN ÄABERG
Sean Äarberg
[Illustration - Punk]
Acid Vomit! is a large, full colour, hardbound, coffee-table book of Sean Aaberg's artwork, featuring his original illustrations from the last twenty plus years. This vibrant monograph includes a range of Sean's styles, from initial concept sketches to completed artwork, showcasing drawings from many different published projects, and some never before seen work as well. Covering his early zine and comic work in the 90s and 00s, his conceptual work in the 00s, his work on PORK magazine and the Dungeon Degenerates board game - Acid Vomit! Covers all the bases and then some! Sean Aaberg works to be both avant-garde and low-brow simultaneously.
1976, Sean Äaberg was born and raised in Oakland, California into a bohemian family. In 1988 at age 12 he discovered zines, the Church of the Subgenius and Punk all at the same time which gave his world of Pee-Wee's Playhouse, Dr. Demento and MAD Magazine direction and drive. Äaberg has viewed his visual art as a part of a series of cultural systems and tries to incorporate all levels of culture with his work. In 2000 Äaberg married artist Katie Äaberg, and they started Goblinko as an umbrella for their projects.

In 2011 Äaberg decided to give big zines a go again and PORK Magazine was born. The magazine covered Rock&Roll, Weirdo Art and Bad Ideas, going for a big-tent approach instead of targeting little niche groups. PORK influenced a couple generations of low-brow artists and entrepreneurs who copied the Goblinko business model. As the internet changed the way people consume media, Äaberg decided that making games would better fit where he and his audience were at. In September, 2019 Äaberg had a stroke and is now recovering.
Gingko Press (2020) 216 p. 24 x 32 cm - Hardcover