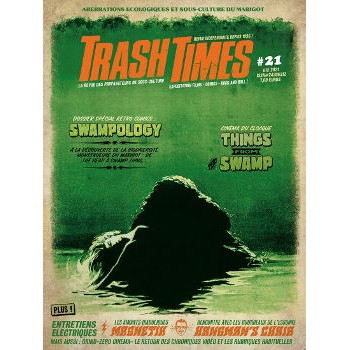  
TRASH TIMES N°21 SUMMER 2021
[Fanzine - Subcultures]
Trash Times, le fanzine des profanateurs de sous-culture : Ciné vintage - Rétro comics - Subculture & Rock and Roll !
Dossier spécial swampology à la rencontre de la biodiversité monstrueuse du marais à travers un dossier comics touffu consacré à Swamp Thing et aux autres créatures qui l'ont précédé : de The Heap à Man-Thing, en passant par The Glob...Puis, avant de quitter le marigot fétide, petit détour par le septième art pour passer en revue le bestiaire des créatures cinématographiques qui en ont émergé. L'occasion de revenir sur une douzaine de séries B méconnues des années 40 à 80, telles que Strangler of the Swamp (1946), Le Monstre du marécage (1957), The Exotic Ones (1968), Zaat (1975), Bog (1979), Terror in the Swamp (1985) et bien d'autres…
Et pour finir des interviews électriques des Magnetix et de Hangman's Chair. Et des chroniques livres, fanzines, film en veux tu en voilà.
TrashTimes (2021) 48 p. 21 x 28 cm - In French