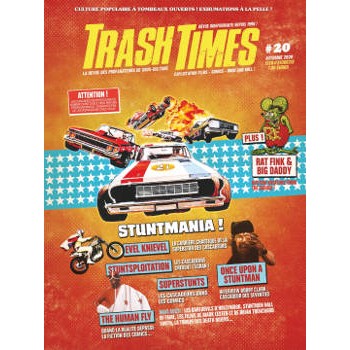  
TRASH TIMES N°20 FALL 2020
[Fanzine - Subcultures]
Trash Times, le fanzine des profanateurs de sous-culture : Ciné vintage - Rétro comics - Subculture & Rock and Roll !
Dossier cinéma spécial Stuntmania ! Coup de projecteur sur les cascadeurs d'Hollywood, de l'âge d'or à l'apogée de la profession dans les 70's.
Retour sur le phénomène médiatique Evel Knievel, qui captiva l'Amérique pendant la décennie ; ses incroyables exploits, ses retentissants échecs, ses films et ses relations conflictuelles avec Hollywood.
Quand les cascadeurs et doublures volaient la vedette : panorama des films qui ont constitué le sous-genre de la "Stuntsploitation".
Quand les cascadeurs inspiraient les comics : un petit détour du côté de la bande-dessinée, avec le Stuntman de Joe Simon et Jack Kirby et autres Cougar chez Atlas Comics, sans oublier The Human Fly, support promotionnel made in Marvel pour le cascadeur masqué homonyme dont nous retraçons la pathétique carrière.
Interview de Bobby Clark qui est probablement le seul cascadeur américain actif dans les années 60-70 à avoir aussi bien travaillé pour Stanley Kubrick (2001, L'Odyssée de l'espace) que pour Al Adamson (Les Sadiques de Satan) et aussi et surtout oeuvré dans la bikesploitation (Le Retour des anges de l'enfer ; Les Motos de la violence ; Les Machines du diable ; Angels Hard as they Come...), la carsploitation (Enfer Mécanique ; The Driver...), l'horreur (The Dark, The Werewolf of Woodstock...) et même la blaxploitation (Cleopatra Jones, The Black Six...). Agé de plus de 80 ans, Stuntman Bob nous livre un témoignage de première main sur le off-Hollywood d'antan et sur une profession rarement (pour ainsi dire jamais) évoquée dans les livres et revues de cinéma.
Rat Fink et Big Daddy : Ed "Big Daddy" Roth, artiste légendaire, pinstriper et concepteur génial d'engins kustom, a engendré sa version trash de la souris, qui a gagné le coeur de l'autre Amérique, jusqu'à devenir une véritable icône de la subculture : Rat Fink. Rongeurs, hot-rods, peinture, cambouis, model-kits et kustom kulture sont au programme de cette rétrospective.
TrashTimes (2020) 36 p. 21 x 28 cm - In French