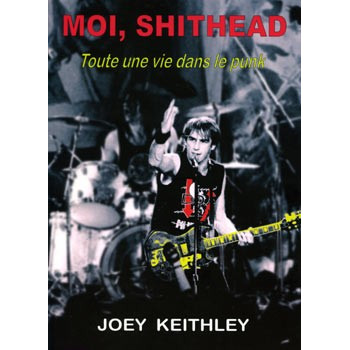  
MOI, SHITHEAD - TOUTE UNE VIE DANS LE PUNK
Joey Keithley
[Hardcore punk - D.O.A - Autobiography]
Joey Keithley, alias Joey Shithead, a fondé les légendaires pionniers du punk D.O.A. en 1978 – des "rois du punk" qui ont participé au développement de cette contre-culture dans le monde et ont été cités en tant qu'influences par Red Hot Chili Peppers, Green Day, Rancid, The Offspring et d'autres.
Mais le punk est plus qu'un genre musical  : c'est un état d'esprit. D.O.A. a toujours eu une conscience sociale, et a notamment joué en soutien à Greenpeace, aux victimes de viols, aux droits des prisonniers, et à des organisations contre les armes nucléaires et la mondialisation.
Durant plus de trente ans, D.O.A. a partagé l'affiche avec de nombreux groupes, dont les Clash, Ramones, Dead Kennedys, Black Flag, Nirvana, PiL et Minor Threat. Le groupe a également vu deux albums de reprises lui rendre hommage.
Moi, Shithead rapporte les souvenirs de la vie de Joey dans le punk. Les débuts d'une bande de gamins de Vancouver fascinés par ce mouvement en plein essor, à travers une génération désillusionnée par le statu quo : des histoires d'émeutes, de tournées, de concerts, en surmontant toutes sortes d'obstacles avec une pure détermination. Et à travers tout cela, Joey révèle que le slogan de D.O.A. : TALK – ACTION = 0, représente bien plus que de simples mots à ses yeux. Avec une introduction de Jack Rabid, éditeur du magazine musical new-yorkais influent The Big Takeover.
Joey Shithead Keithley, le fondateur de D.O.A. et de Sudden Death Records est un activiste de longue date dans la musique, la politique et l'environnement. Il vit à Vancouver avec sa femme et leurs trois enfants.
85 photos et 196 iconographies et plus de pages que l'édition originale.
RytRut (2011) 312 p. 15 x 21 cm - In French