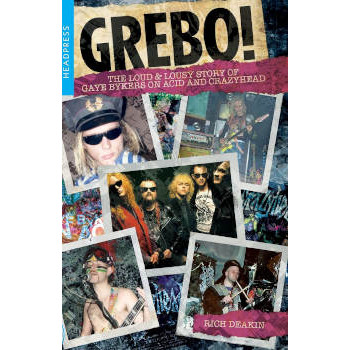  
GREBO !
Rich Deakin
[PunkRock - Grebo - Biography]
The Loud & Lousy Story of Gaye Bykers on Acid and Crazyhead: West Midlands (UK)1980s, home to heavy metal. Black Sabbath and Judas Priest are household names, but over the smoking chimneys and factory yards something new and equally ugly forms.
'Grebo' was a media constructed music genre that even today sends a shudder down the spines of discerning music fans and critics. A homegrown proto-grunge (counterpart to the likes of Butthole Surfers, Mudhoney, early Nirvana, Alice In Chains, and Soundgarden in the US) grebo was a British phenomenon that drew on an eclectic range of influences, from punk, 60s garage and psychedelia, through to 70s heavy rock and thrash metal. It foreshadowed rave culture and was steeped in class politics.
GAYE BYKERS ON ACID and CRAZYHEAD hailed from Leicester. They were not the first bands to be labelled grebo but they were the most unashamedly unkempt and came to be considered its greatest exponents. They were "a burst of dirty thunder" and almost no one liked them.
HeadPress (2021) 468 p. 14 x 22 cm