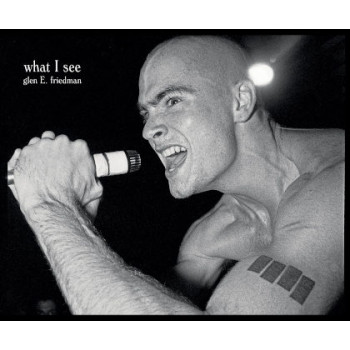  
WHAT I SEE - BLACK FLAG
Glen E. Friedman
[Punk Hardcore - Black Flag]
Un magnifique recueil de photographies de Black Flag prises entre 1980 et 1983 par Glen E.Friedman préfacé par Chuck Dukowski. Plus de 300 photos (essentiellement N&B) dont plus de 70% n'ont jamais été vues.
Glen E. Friedman, l'un des photographes les plus importants de sa génération, est connu pour ses images emblématiques d'artistes issus des cultures du skateboard, du punk et du hip-hop. Friedman, publié pour la première fois à l'âge de quatorze ans, a produit plus d'une centaine de pochettes de disques, d'innombrables pages de magazines et près d'une douzaine de livres, dont DogTown : The Legend of the Z-Boys, Keep Your Eyes Open, The Idealist, Recognize, My Rules, et Together Forever : The Run-DMC and Beastie Boys Photographs.
Chuck Dukowski (né Gary Arthur McDaniel ; 1er février 1954) est un musicien punk californien, surtout connu comme membre fondateur et bassiste de Black Flag. Dukowski a écrit certaines des chansons les plus populaires de Black Flag, notamment "My War", "What I See", "I've Heard It Before" et "Spray Paint". Il a quitté Black Flag avant la sortie de My War, et a ensuite été le manager du groupe. Dukowski fut également copropriétaire de SST Records. Après Black Flag, Dukowski a continué à jouer dans Würm, SWA.
Burning Flag Press / Akashic Books (2022) 256 p. 28 x 23 cm - Hardcover - Textes en Anglais