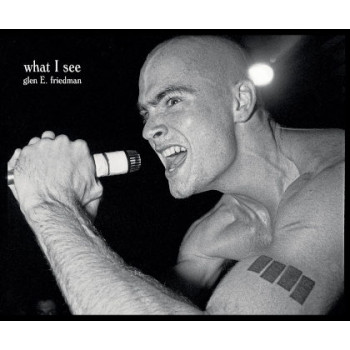  
WHAT I SEE - BLACK FLAG
Glen E. Friedman
[Punk Hardcore - Black Flag]
A stunning collection of the most iconic photographs ever taken of Black Flag, along with never-before-seen shots and a foreword by Chuck Dukowski. 256 jam-packed pages, over 300 photographs, and over 70% of the photos have never been seen.
Glen E. Friedman, one of the most important photographers of his generation, is known for his influential and iconic images of rebellious artists from classic skateboarding, punk, and hip-hop cultures. As a true artist his process was much more incendiary than it was documentary. Friedman, first published at the age of fourteen, has produced over one hundred record covers, countless magazine pages, and almost a dozen books, including DogTown: The Legend of the Z-Boys, Keep Your Eyes Open, The Idealist, Recognize, My Rules, and Together Forever: The Run-DMC and Beastie Boys Photographs.
Chuck Dukowski (born Gary Arthur McDaniel; February 1, 1954) is a Californian punk rock musician, best known as a founding member and bass player for Black Flag. Dukowski wrote some of Black Flag's most popular songs, including "My War," "What I See," "I've Heard It Before" and "Spray Paint." He left the band before the release of My War, and afterward served as Black Flag's manager. Dukowski was also the co-owner of SST Records until 1990, after which he served as head of sales until leaving the label in the late 1990s. After Black Flag, Dukowski continued to play in Würm, SST supergroup October Faction, and formed his own band SWA in 1985 with Merrill Ward of Overkill.
Burning Flag Press / Akashic Books (2022) 256 p. 28 x 23 cm - Hardcover